Nouveau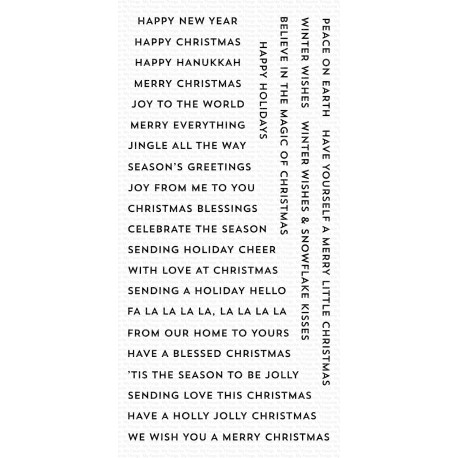 Agrandir l'image
MFT CLEAR STAMPS BITTY HOLIDAY WISHES
CS417
Nouveau produit
0 Article Produits
Ce produit n'est plus en stock
Attention : dernières pièces disponibles !
Date de disponibilité:
En achetant ce produit, vous pouvez collecter 1 point de fidélité. Votre panier sera total 1 point qui peut être converti en un bon de 0.20 CHF.
En savoir plus
We've done birthdays and we've done gratitude, adding a holiday version of these essential bitty wishes to the line was a must! With close to thirty different holiday and Christmas-themed phrases, Bitty Holiday Wishes is an indispensable complement to your cherished collection of holiday supplies. Pair with the previously released Skinny Strips Die-namics for a perfectly sized home for your greetings.
4" x 8" clear stamp set
Clear stamp sets include the name of the set on the sticker for easy identification.
Our clear stamps and Die-namics are made in the USA.
October 2019 Release