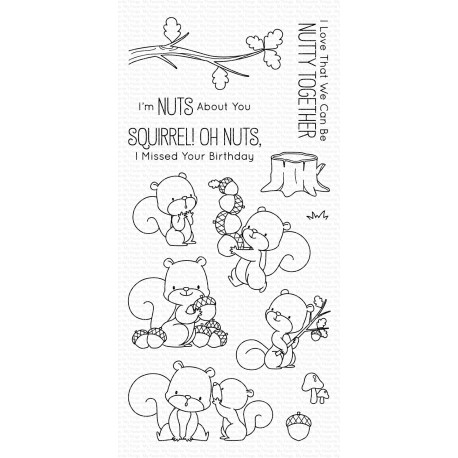 Agrandir l'image
MFT CLEAR STAMPS SQUIRREL !
BB75
Nouveau produit
MFT  CLEAR STAMPS SQUIRREL !
0 Article Produits
Ce produit n'est plus en stock
Attention : dernières pièces disponibles !
Date de disponibilité:
En achetant ce produit, vous pouvez collecter 1 point de fidélité. Votre panier sera total 1 point qui peut être converti en un bon de 0.20 CHF.
En savoir plus
We're all nuts over Birdie Brown's adorable images, but this set in particular has us feeling a bit squirrely. You'll instantly fall for these delightful little hoarders. A wide array of sizes, poses, and accessories are included to make scene building so much fun. From a furry little friend perched upon a stump to an acorn-collecting charmer nestled in among tufts of grass and mushrooms — these woodland creatures will instantly make a home in your collection of favorite supplies.
4" x 8" clear stamp set
Clear stamp sets include the name of the set on the sticker for easy identification.
Our clear stamps and Die-namics are made in the USA.
I'm Nuts about You, Squirrel! Oh Nuts, I Missed Your Birthday, I Love That We Can Be Nutty Together