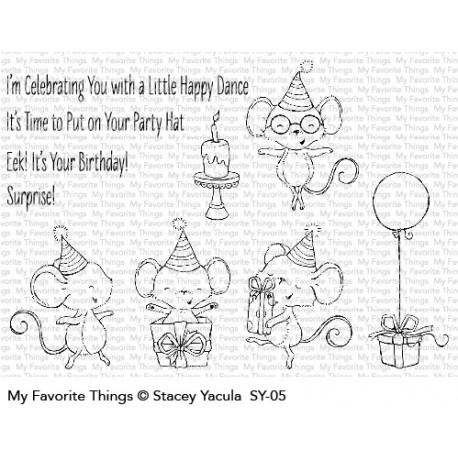 Agrandir l'image
My favorite Things :ITS A MICE TIME TO CELEBRATE CLEAR STAMPS
SY05
Nouveau produit
0 Article Produits
Ce produit n'est plus en stock
Attention : dernières pièces disponibles !
Date de disponibilité:
En achetant ce produit, vous pouvez collecter 1 point de fidélité. Votre panier sera total 1 point qui peut être converti en un bon de 0.20 CHF.
En savoir plus
These mice from Stacey Yacula are of the "Eek! So cute!" variety rather than the "Eek! Jump on a chair!" variety. Not only are they completely adorable and utterly huggable, they're also party ready wearing hats, bearing gifts, and excited to enjoy a tasty cake. Stacey's inimitable style means this set will fill an unexplored niche in your collection of birthday-themed supplies.
Clear stamp sets include the name of the set on the sticker for easy identification.
Our clear stamps and Die-namics are made in the USA.