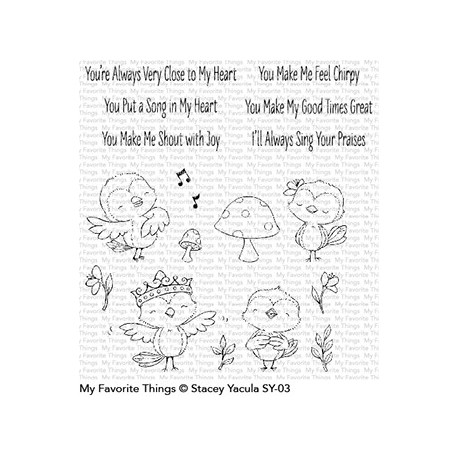 Agrandir l'image
My favorite Things : TWEET FRIENDS CLEAR STAMPS
SY03
Nouveau produit
My favorite Things : TWEET FRIENDS CLEAR STAMPS
0 Article Produits
Ce produit n'est plus en stock
Attention : dernières pièces disponibles !
Date de disponibilité:
En achetant ce produit, vous pouvez collecter 1 point de fidélité. Votre panier sera total 1 point qui peut être converti en un bon de 0.20 CHF.
En savoir plus
Carry a song in your heart, and you'll have joy with you wherever you go. Thanks to this stamp set from Stacey Yacula, you can spread that joy around. Tweet Friends features the most irresistible choir — your cards will sing when adorned with these tweet performers. Create the perfect woodland stage with the flora, fauna, and fungi also included.
Clear stamp sets include the name of the set on the sticker for easy identification.
Our clear stamps and Die-namics are made in the USA.