Promo !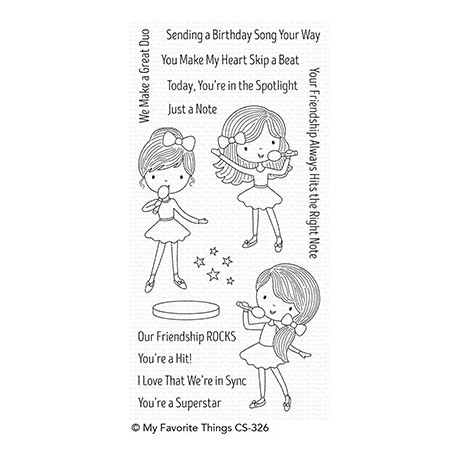 Agrandir l'image
MFT FRIENDSHIP ROCKS CLEAR STAMPS and DIES SET
cs326 & MFT1373
Nouveau produit
MFT FRIENDSHIP ROCKS  CLEAR STAMPS and DIES SET
0 Article Produits
Ce produit n'est plus en stock
Attention : dernières pièces disponibles !
Date de disponibilité:
No reward points for this product because there's already a discount.
En savoir plus
Friendship Rocks features three sweet songstresses in a variety of poses…from softly crooning to all-out belting. Combine them into one fabulousgirl group or showcase them singularly, perched upon the included stage. Accent your concert with a cluster of stars and add a rocking sentiment for the encore. Finally, present your look to raucous applause for the lucky recipient!
This 15 piece set includes: 
Girl with bun 1 3/8" x 3 1/4"
Girl with hair down 1 3/4" x 2 15/16"
Girl with side pony 1 5/8" x 2 15/16"
Stage 1 5/16" x 3/8"
Stars cluster 13/16" x 3/4"
Sending a Birthday Song Your Way 3" x 1/4"
You Make My Heart Skip a Beat 2 3/4" x 1/4"
Today, You're in the Spotlight 2 5/8" x 1/4"
Just a Note 1" x 1/4"
Our Friendship ROCKS 2" x 1/4"
You're a Hit! 1" x 3/16"
I Love That We're in Sync 2 1/8" x 1/4"
You're a Superstar 1 5/8" x 1/4"
We Make a Great Duo 1 7/8" x 3/16"
Your Friendship Always Hits the Right Note 3 3/4" x 1/4"
Clear stamp sets include the name of the set on the sticker for easy identification.
Our clear stamps and Die-namics are made in the USA.
DIE SET:
This Die-namics coordinates with the Friendship Rocks stamp set for perfectly sized die cuts every time. It is open inside to allow you to stamp then cut OR cut then stamp. This feature makes the Die-namics lighter weight and allows for easier removal from the die.
This 5 piece set includes:
Girl with bun 1 1/2" x 3 3/8"
Girl with hair down 1 7/8" x 3 1/16"
Girl with side pony 1 3/4" x 3 1/16"
Stage 1 7/16" x 1/2"
Stars cluster 15/16" x 7/8"