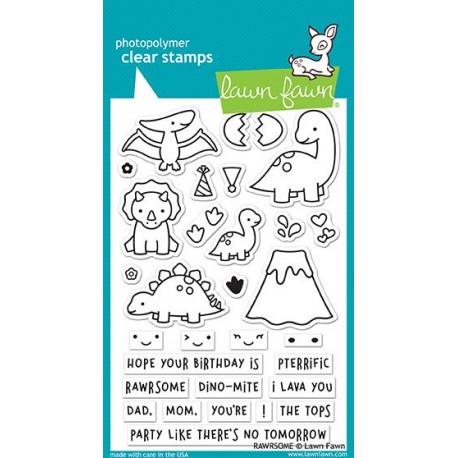 Agrandir l'image
LAWN FAWN CLEAR STAMPS RAWRSOME
LF1892
Nouveau produit
LAWN FAWN CLEAR STAMPS RAWRSOME
0 Article Produits
Ce produit n'est plus en stock
Attention : dernières pièces disponibles !
Date de disponibilité:
En achetant ce produit, vous pouvez collecter 1 point de fidélité. Votre panier sera total 1 point qui peut être converti en un bon de 0.20 CHF.
En savoir plus
Party like there's no tomorrow with these cute dinosaurs! These dinos are ready to celebrate birthdays, Mother's Day, Father's Day, and any other RAWRSOME occasion!
Coordinating Lawn Cuts: RAWRSOME Lawn Cuts
Coordinating set ideas: Add the dinosaur from RAWRto complete the dino family! Pair this set with Slide On Over for an interactive card with a pterodactyl flying across the sky. Or decorate your prehistoric scene with Palm Trees!
approximate sizes:
pterodactyl: 1 5/8" x 1"
large allosaurus: 1 1/2" x 1 1/2"
small allosaurus: 7/8" x 7/8"
triceratops: 1" x 1 1/4"
stegosaurus: 1 5/8" x 1"
volcano: 1 1/2" x 1 1/4"
Made with care in the USA!