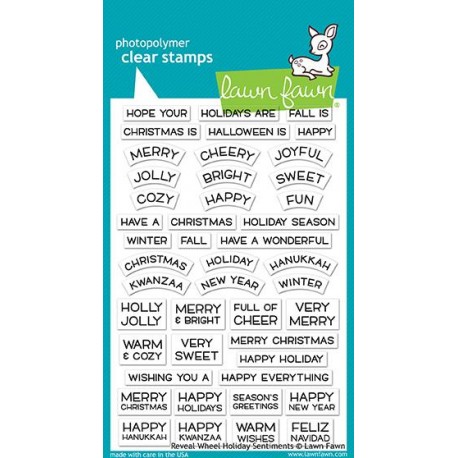 Agrandir l'image
LAWN FAWN REVEAL WHEEL HOLIDAY SENTIMENTS STAMPS
LF1772
Nouveau produit
LAWN FAWN   REVEAL WHEEL HOLIDAY SENTIMENTS STAMPS
0 Article Produits
Ce produit n'est plus en stock
Attention : dernières pièces disponibles !
Date de disponibilité:
En achetant ce produit, vous pouvez collecter 1 point de fidélité. Votre panier sera total 1 point qui peut être converti en un bon de 0.20 CHF.
En savoir plus
These holiday sentiments are sized to fit perfectly into the windows from Reveal Wheel, Reveal Wheel Square Add-On, and Reveal Wheel Speech Bubble Add-On. They are great for Christmas, holiday cards, and even Halloween or fall-themed cards!
Coordinating set ideas: Use this set with Reveal Wheel Sentiments to create even more messages on your interactive cards!
Check out the Reveal Wheel collection for endless possibilities!
Made with care in the USA!