Prix réduit !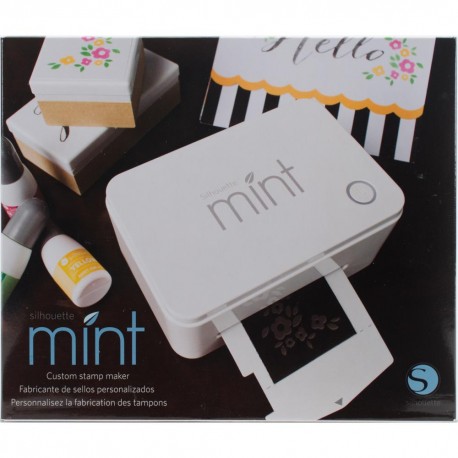 Agrandir l'image
SILHOUETTE MINT
mint
Nouveau produit
0 Article Produits
Ce produit n'est plus en stock
Attention : dernières pièces disponibles !
Date de disponibilité:
En achetant ce produit, vous pouvez collecter 6 points de fidélité. Votre panier sera total 6 points qui peut être converti en un bon de 1.20 CHF.
En savoir plus
Silhouette Of America-Mint:  The Silhouette Mint is the most innovative and powerful custom stamping system. The machine's special thermal printing ability lets you create 3D reliefs of custom designs on Mint stamp sheets. Simply apply Mint inks to your stamp and you are ready to roll. This 6-1/4x7-1/2x4 inch package contains one Silhouette Mint machine, four ink bottles in assorted colors, one 15mmx60mm stamp kit, one 30mmx30mm stamp kit, one USB cable, one Mint Studio software installation CD, one free trial subscription card and fifty free stamp designs.
Avec le logiciel Mint Studio: 
Vous choisissez le gabarit correspondant au tampon que vous souhaitez créer
Vous ajoutez votre texte accompagné d'un logo, d'une image...

Vous l'envoyez sur la Silhouette Mint

Vous chargez la matière tampon Mint

La matière est "transformée"

Vous récupérez votre tampon, vous le posez sur le socle en bois

Vous imprégnez d'encre le tampon, il ne vous reste plus qu'à Tamponner
Dans le colis
La SILHOUETTE Mint est livrée avec les accessoires suivants:
Logiciel Silhouette Mint pour Windows Vista/Win7/Win8/Win10 et Mac OS10.6.8 et plus

50 motifs exclusifs

Un câble d'alimentation et un câble USB

1 kit tampon 15 x 60 mm

1 kit tampon 30 x 30 mm

4 flacons d'encre: noir, rouge, bleu et jaune

1 carte d'abonnement BASIC 1 mois sur la boutique en ligne Silhouette America

Un guide d'instruction 
Sie erhalten:
-Stempelmaschine,
-inkl. 15x60mm und 30x30mm Stempelkit,
-4 Farben (schwarz, rot, blau, gelb),
-Software Mint Studio,
-50 exklusive Designs &
-1 Monat DesignStore-Member (Basic),